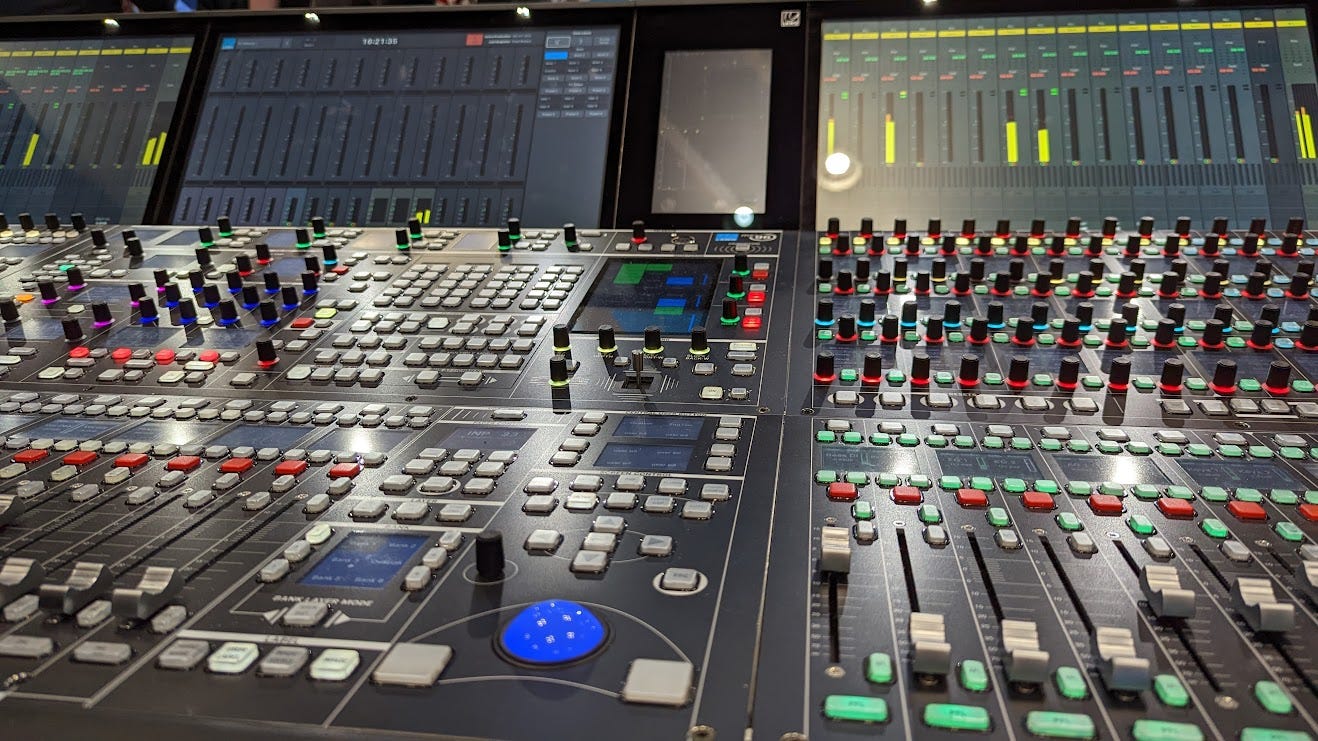 AUDIO PRO NETWORK
A private social network for audio professionals
with a mentorship platform for the next generation.
WELCOME!
My name is Joe and I've been in audio post production for 30+ years in NYC. Audio Pro Network is a one-of-a-kind, private niche social network that I created way back in 2008 as an alternative to the various message boards and social networks of the time. I wanted something better, more trustworthy and inclusive. I designed APN to be a patch bay for people and a noise free alternative to the chaos of public social media.

Well, here we are in 2022, and now more than ever, big social media is becoming more intrusive and unpredictable. Relentless advertising, phishing and bots are just some of the problems plaguing your user experience and compromising your privacy. ​My network is private, free and filled with audio industry veterans just like you.

Join me and hundreds of other audio professionals from all over the world in the only private online community dedicated to the audio industry. Let's pull the patch on big social together!

I'm doing something very different here, I hope you'll join me.
Joe Miuccio
Founder, Audio Pro Network
CHOOSE THE MEMBERSHIP THATS RIGHT FOR YOU
PROFESSIONAL COMMUNITY
A FREE, private social network for audio industry veterans. You must be working in audio full time.
Re-recording, production, music producers, sound designers, dialogue editors, foley walkers, you get the idea! Minimum 5 years working as a full time professional required for membership.
MENTORSHIP COMMUNITY
A FREE private social network and mentorship platform for the next generation of audio professionals. Still in school or even recently graduated, this will give you the answers and support you need to succeed.
VIRTUAL AUDIO APPRENTICESHIP
The Audio Post Career Accelerator is the only course of its kind. A 40 week commitment with over 200 downloadable sessions designed to teach you audio post - by doing audio post! Coupled with a private work group on the Mentorship Platform, it's the fastest way to get the experience that you just can't get in school.
WHAT THE PRO'S ARE SAYING...
Audio Pro Network is a great place for audio professionals of all kinds, whether it be on the tech side, creative side, music or Film/TV, from all over can socialize about their passion...sound. Joe Miuccio has created a great space for professionals to be professionals and still have the ability to help mentor the next generation of audiophiles.

James David Redding III
M.P.S.E. Re-recording Mixer, Sound Editor, Sound Designer
The Audio Pro Network is a fantastic platform dedicated to us audio professionals. Unlike the big name social media platforms, this one isn't filled with political and social issues. It also is less likely to have trolls and slant. You'll love it here!

DeLaVanta Tabor
Re-Recording Mixer, Sound Designer, Music Producer,
Owner-Operator - Hydrate Entertainment
I'm an audio post mixer from NY and now I work remotely. I miss the community of the audio world I grew up in where I worked in an audio facility with other sound designers like me and we exchanged techniques and ideas. Now that "world" is the Audio Pro Network. Every day I get a digest of what people posted and even though I've only been a member for a few months I can see that this is something I will be involved with for years to come. I see that it gives me a feeling of connection to the professionals all around me even though we are in different cities. Ideas are shared and suggestions for gear and there's no "hyped" commercial sales activity going on…it's just real people in my industry sharing ideas. So glad I found it.

Ray Palagy
Sound Designer
What is unique about this online network group compared to many others lies in the quality of its members. All seasoned and experienced real world audio professionals. Our interaction here is always very rich as we share real-world audio issues, solutions, tips and tricks, news, and much more. A real pleasure and extremely useful. Joe Miuccio has done a great job putting this all together. As we say here in Australia "Ripper" !

Joe Hammer
Musician, Composer, Producer, Audio Engineer, Senior Sales Engineer, Business Development Manager & Product Support Specialist. Many years with Fairlight.
If you are an audio professional, Audio Pro Network is a must platform to be on. Joe Miuccio has created a space that is populated by Pro's from all over the audio world, be it, Audio Post, Music, Game Audio or any of the many other segments of the industry. APN is now my go to resource, as I know that the people responding are all working professionals and the the site is free from the noise that you get on the usual platforms. APN is a great Place to share ideas, ask questions or catch up with old friends and make some new contacts. And with the ever changing world we are living and working in, it's exciting to see what Joe has come up with to help beginners get "their foot in the door" with his Mentorship Platform.

Marc Bazerman
Music Supervisor, Sound Designer
Fox Media Networks
FREQUENTLY ASKED QUESTIONS
What is Audio Pro Network?
Facebook, Instagram and Twitter can no longer successfully provide the security, dedication, and focus that private groups need. These platforms have grown so large that meaningful conversations are constantly pitted against trolls and misinformation. Audio Pro Network is a private niche social community dedicated to the audio industry, with a high signal to noise ratio. And with a separate mentorship platform, Audio Pro Network is supporting the next generation of audio professionals. If you aren't already a member, consider joining and pull the patch on big social.
How long have you been around?
I've been around for a pretty long time! My name is Joe Miuccio, the founder of Audio Pro Network, and I've been an audio post professional for over 30 years in New York City. I formed Audio Pro Network way back in 2008 as a private social network for verified audio professionals. In 2019 I launched the mentorship platform, successfully helping and inspiring members from all over the world.
Why did you start Audio Pro Network?
I wanted to increase my professional contacts in the industry and I wasn't satisfied with the audio message boards and business networks of the day. Non-professional members on those sites contributed to misinformation and the experience was often an unfriendly one for me. So, I set out to create a welcoming, helpful environment with a bigger objective; Create a new, friendly pro audio culture, combined with an inclusive mentorship platform to help the next generation.
What is the difference between the Professional and Mentorship platforms?
The Professional membership is a customized private social network designed with a low noise floor. It's a professional atmosphere with no trolls, bots or tracking. It comes with a host of benefits and it's free for verified Professionals.

The Audio Post Mentorship platform includes, networking with peers, tutorial videos, scheduled chats, webinars, and unfettered access to lead mentor Joe Miuccio.

The Audio Post Career Accelerator kicks things up a notch with a massive audio post course, the biggest of its kind, along with personalized one-to-one coaching, job search assistance and more!
Why are the Professional and Mentorship platforms free?
Professional:
Professional membership has always been free and it was always my promise that it would remain so. There are already many free social networks, so charging for Audio Pro Network didn't seem like the right thing to do.

Mentorship:
When I was young I was lucky to work with great people that mentored me from the very humble beginnings of my career. Nowadays that kind of generosity is very hard to find. I made the Mentorship Platform so I could give back to the industry I love.
If I purchase the Audio Post Career Accelerator, what exactly am I getting?
Your experience in the Audio Post Career Accelerator will feel like working in an audio post house! 200 downloadable practice sessions that range from advertising to entire films! You can even have one-to-one meetings with your instructor when you need them. This is a 40 week curriculum. When you finish, you'll have enough experience to get hired easily by any audio post facility in the world.
Do you offer a money back guarantee for the Audio Post Career Accelerator?
There are no partial refunds and all sales are final during our free microphone giveaway. After the giveaway is complete, there will be a 30 day money back guarantee. But keep in mind that there is a generous 7 free sessions to download and try out, no strings attached. If you like the experience and are up for the challenge, you won't want to quit!
What types of payment do you accept for the Audio Post Career Accelerator?
We accept all major credit cards.
Can I use any internet browser to view content on the site?
Yes, you can use any internet browser to view content on the site and we also have a mobile app! Please note, for one-to-one coaching and small class webinars on the mentorship platform, you'll need to use Chrome browser.
APN PODCAST
A podcast bringing together profs and beginners for inspiring talks about what it takes to create a successful career in the audio industry.
MERCH
Support the Audio Pro Network movement with our great gear! T-shirts, hoodies, bags, mugs and more! Help spread the word!
ASCENT BLOG
Start your climb to the top by reading the Audio Ascent blog. Inspiring stories, about what it takes to build a successful career in audio.