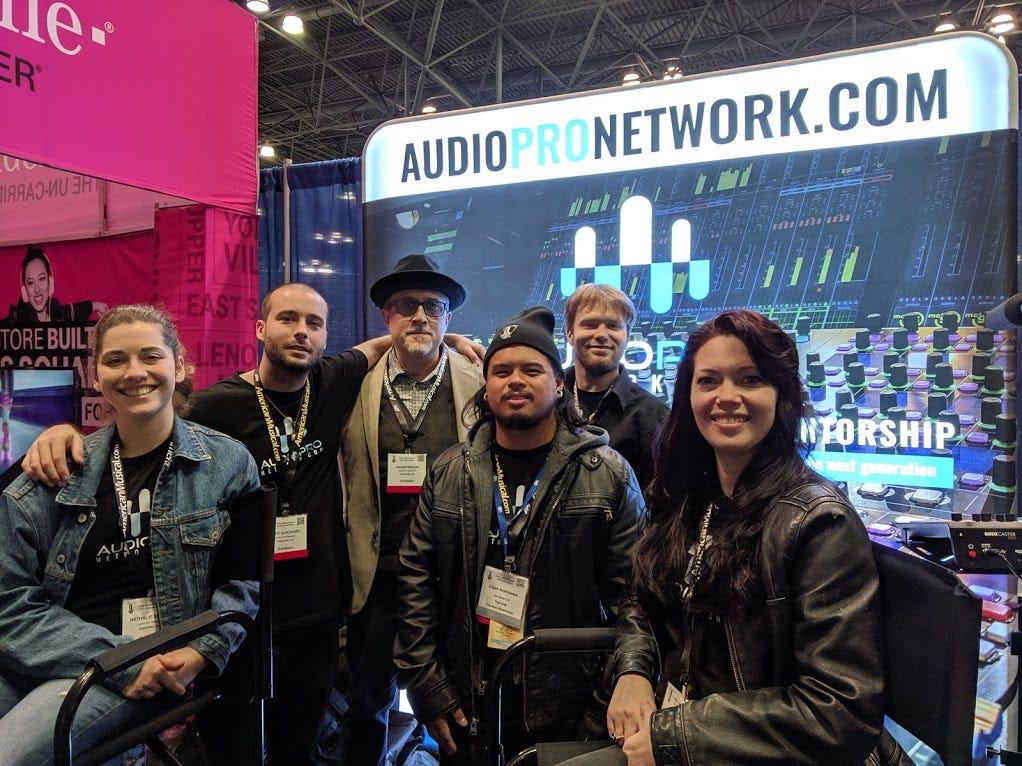 ​A FIRST-OF-ITS-KIND FREE AUDIO MENTORSHIP PLATFORM
If you are currently in college or a recent graduate, the mentorship community will help you put all the pieces together, giving you a fuller understanding of the industry, real world workflow, business practices and much more!


​The only private online community dedicated to mentorship for Audio Post.
Weekly live webinars!
Get all the answers you need from your own dedicated audio post mentor.​
​24/7 mentor messaging and peer to peer networking
After joining the free mentorship platform, consider joining the Audio Post Career Accelerator! Get access to the largest and most complete audio post production course ever created!
MENTORSHIP PLATFORM TESTIMONIALS
Nathalie S.
"Joe has been wonderful in helping me with taking the next steps in my career! He is extremely detail oriented and great at giving you the whole picture whenever you ask a question. He is someone that truly wants to see you succeed! If you are someone questioning what steps are next for you, whether or not you have a defined area you want to go into, he is a wonderful backboard with tons of experience in various different fields, and is quick to give you help on whatever tools you need!"
Bobby G.
"Audio can be a daunting field to enter professionally, even with a strong skill set and educational background. Audio Pro Network provides a unique platform to network, develop your skills, and receive mentorship from accomplished professionals, which is truly invaluable in establishing a career. From the day I joined Audio Pro Network to today, Joe Miuccio has gone out of his way to help in any way he can, offering valuable career guidance, constructive feedback, and connections with people and opportunities. Thanks to his mentorship and the Audio Pro Network platform, I have taken great strides in my career and continue to do so."
Rosalie R.
"Joe Miuccio was made to be a mentor. Not only is he extremely knowledgeable, he's generous with his time and attention as well- and with that mindset he's created an incredible platform for people who want to learn about the industry and come together, connect with mentors, and hone their craft. Advice given within this community is invaluable and instrumental for those wanting to pursue a career in music and or audio."
Darius B.
"APN has provided me with not only a sense of direction towards my goals and dreams, but tons of useful insight that has helped me to recognize the skills needed to achieve success within the industry. Having access to a mentor to speak to and help me navigate my path has been amazing. The mentors at APN don't give you a fish when you're hungry. Instead , they bring you to the lake and teach you how to fish by sharing their wisdom, knowledge, and real industry connections."
Jeff G.
"After joining APN, I was able to connect with Joe one to one. We were able to discuss, in depth, my career interests and possible career paths I could take. Based on our conversations he was able to suggest new ideas that I had never came to think of based on my skills. Post Audio Production was one of those topics. APN was able to connect me with a Post Audio Studio for an internship. I could not be happier with this decision! I am enjoying my internship and gaining valuable skills that will pave the road for my future."
Kyle M.
"Audio Pro Network has given the rare chance for those looking for a career in audio to find both excellent mentors and apprentices alike. Better yet, the community is supportive, educational, and reassuring, no matter the level of experience. If you're even slightly considering a career in sound/music/audio, this is the community for you."